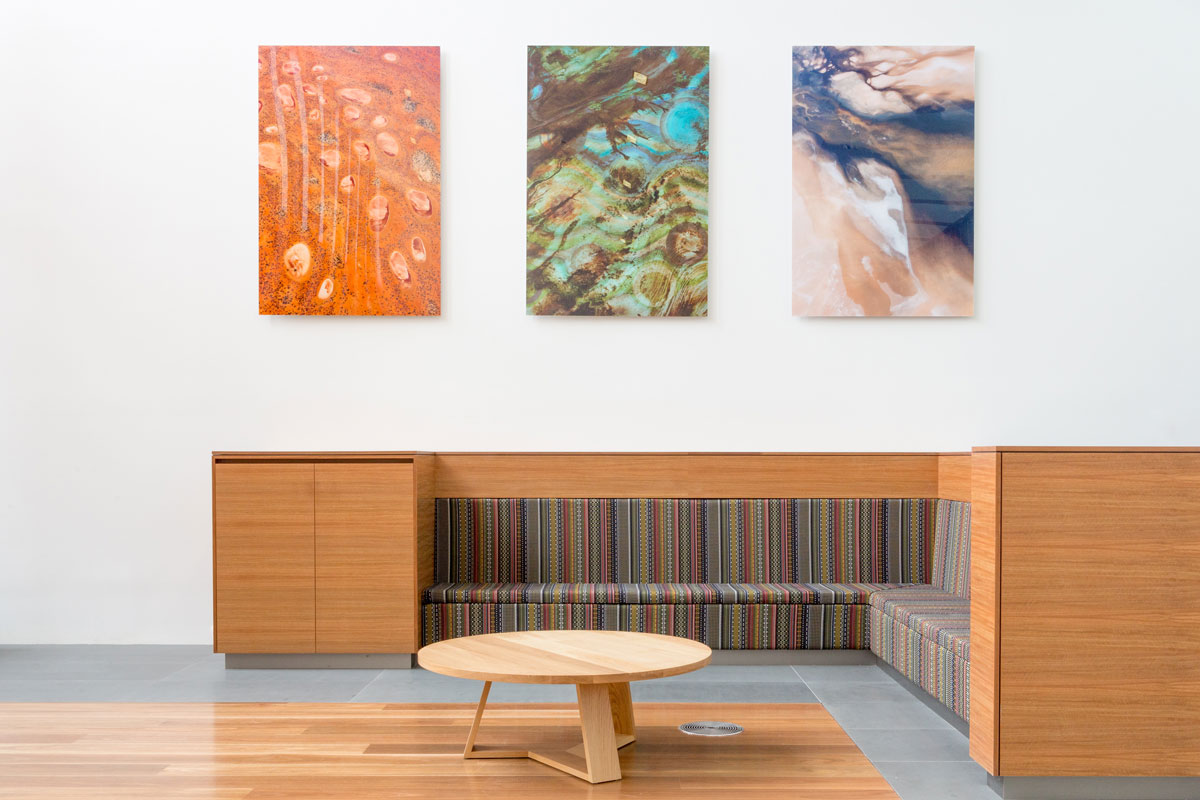 Bungarri Warduga Barndimanmanha
Gascoyne River Healing Journey
A series of artworks reflecting the rugged beauty and stories of the Gascoyne River celebrating local culture and living on this land. Contemporary Aboriginal art, symbolic and highly coloured paintings of Yamatji Country are digitally fused with local aerial photography to create a unique visual language. The 7 metre high entrance features glass artwork using an advanced ceramic printing process. Here the river meets the sea, where the river gum acts as a visual transition from river life to marine scenery celebrating the natural beauty of the Shark Bay World Heritage area.
The Bush Medicine leaf acts as a reoccurring healing motif as it floats through the narrative of Gascoyne River life stories from the plantations, through pastoral country, to the desert outback around the Kennedy Ranges and beyond in the catchment areas.
Site: Carnarvon Health Campus
Location: Carnarvon, Western Australia
Client: WA Country Health Services, Percent for Art Scheme
Architect: Sandover Pinder with DWP Suters
Builder: PINDAN Construction
Public Art Coordinator: Corine van Hall
Monsignor Hawes Heritage Centre
Dolor, Spes, Sanatio, Redemptio
Site: Monsignor Hawes Heritage Centre, Geraldton Cathedral of St Fancis Xavier
Location: Geraldton, Western Australia
Client: The Roman Catholic Bishop of the Diocese of Geraldton
Architect: John Taylor Heritage Architect
Builder: Crothers Construction
Public Art Coordinator: Fr Robert Cross
This triptych is an ecclesial artwork that is the entrance statement in the foyer of the new Geraldton museum dedicated to the life and significant works of Monsignor John Cyril Hawes (1876-1956).
The artwork is informed by four inter-related themes - sorrow which begets hope, begets healing, begets redemption. Hawes architectural expression of sorrow was instructive to our approach; in the Geraldton Cathedral's Chapel of Our Lady of Sorrows, he seemed to respond deeply to the crisis of grief of the world's first global war and this formed the basis of the exploration for relevant artwork elements.
The composition uses multiple layers that blend digitised images of technical drawings and artwork by Monsignor Hawes, photography by Anton Blume and contemporary Aboriginal paintings by Bonni Ingram; it is based on the Rood Triptych form favoured by Monsignor Hawe style often created by him. All the artwork elements are selected highlights of Monsignor Hawes lived experience during his years in Western Australia – his profound Franciscan spirituality and dedicated vocation as priest and architect.
Pundulmurra
Ocean Flowering
Site: Pundulmurra Health and Community Services Training Centre
Location: South Hedland, Western Australia
Client: Pilbara Institute
Public Art Coordinator: Paola Anselmi
Our goal was to create artwork celebrating Country that revealed itself over a series of panels. Weaving through our contemporary approach is the cultural authority of Aboriginal understandings of nature and Country as found in the land and seascapes of Yamatji people.
The artwork is informed by ideas of health and wellbeing together with belonging, mediated through our artwork expressing connection to Country. We believe it is through this authentic connection to Country that one's self-worth is nurtured and becomes the strong foundation upon which faith grows into courage to enter the adventure of learning.
The unifying motif symbolising healing and good health, flowing through each panel, is the bush-medicine leaf of the Scaveola Spinescens, used extensively as traditional medicine in the Pilbara, Gascoyne and Midwest. Familiar landscape scenes elicit a sense of recognition together with readily identifiable flora motifs. The Bird flower (Crotolaria Cunninghamii) is highlighted due to its distinctive shape and colour and uniqueness in the Hedland landscape and surrounding districts.
Listening to Country 1
Fuse Art Collective
Site: Carnarvon Police and Justice Centre
Location: Carnarvon, Western Australia
Client: Department of Attorney General, Percent for Art Scheme
Architect: Cox, Howlett & Bailey Woodland Architects with Patterson Group Architects
Builder: EMCO Building
Public Art Coordinator: Maggie Baxter
The waiting area of this new Courthouse has an impressive presence with cathedral height ceiling. A triptych from the Fusion and 3000 feet series was selected to compliment the interior design of this area. It is the largest ever version of our artworks series.
The left panel is Claypans II by Anton Blume and reveals the desert around Doorawarra and Brickhouse Stations, inland on Ingaarda Country of the Gascoyne River.
The right panel is Tracks by also by Anton Blume and was taken over the salt Lake McLeod where the Minilya River terminates, adjacent to the Ningaloo Reef World Heritage Area on Baiyungu Country. The various stages of the algae life cycles determine the different colourings of this dry lake.
The focal point of the triptych is the centre panel called Lightning over Desert Country. It is the cornerstone of the Fusion exhibition series and a popular work which continues to attract attention and commissions with its alluring composition and story of lightning strikes and heavy rains over a dry salt lake.